Turkoman flag from Kirkut?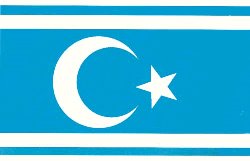 Anyone know what this flag from Travel Images is?
Looks like it's part of the input for designing new Iraqi flags, doesn't it?
---
Kommentarer:
It was used by rebel Turkmen in Iraq for a number of years. This is at least 10 year old. It's like half Turkish half Israeli.Please notice that the Turkmen are more Azeri than Turkish, although the Turk have been brainwashing them for 40 years for them to feel Turkish!
Trackback
Trackback-URL for dette innlegget:
http://blogsoft.no/trackback/ping/19390