Turkoman flag from Kirkut?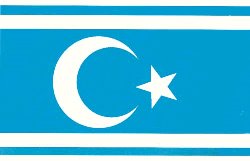 Anyone know what this flag from Travel Images is?
Looks like it's part of the input for designing new Iraqi flags, doesn't it?
---
Sleeping Around playwright awarded
---
Pagaj vs Paatit - tuku and sinaiming
In Danish, a kayak paddle is called a pagaj. That is strange, as the main part of Denmark, Greenland, has the most advanced kayak culture in the world, and there it is called a paatit.
A European pagaj usually has between 60 and 90 degrees angle between the blades, while the paatit has both blades in the same plane. That could be part of the explanation.
But the only reference I find to pagaj outside Denmark, are two islands in Mentawai near Sumatra: North and South Pagai. They do indeed have some quite notable paddles: The dolphin shaped tuku and the diamond shaped sinaiming. Both are operated with one arm only; the top end is locked in the armpit like a crutch.
So far, I have found no information on twin-blade paddle traditions in South-East Asia. Does anybody know anything about this?
---
Defragmenting the global village
There will never be a global village, we are not interested in communicating with everyone, and we are simply too many people.
But the fragmentation into global ghettoes should be caused by lack of interest, not by borders in the infrastructure.
At the moment, I am member of three kayak-related communities at orkut.com alone, and two more at the Norwegian Kayak Association and Qajaq USA. That's ridiculous. Most of what I say in one of those, might as well be said in any of the others.
To defragment those ghettoes, we need the following:
A blog each. The blog needs HTML and news feed interfaces. It needs trackback tools to thread discussions. It needs user authentication, some times to limit an item's visibility to friends only, always to protect the trackback from being abused by spammers.
User authentication should be integrated between HTML and news feed versions of the blog. I see two ways to do that:
SSL client certificates
Cookie level integration between web browser and news reader. Once logged on via HTML, the news reader will have access until the cookie expires.
And we always need ever better search engines.
---
local.google.com - the Emperor's new clothes
Google has got a lot of hype ablut their so-called local search.
But--leaving Google's rock solid reputation for result integrity behind--this search seems to return paid submissions only. That makes the local search just one more yellow pages wannabe. Here in Scandinavia, the Yellow Pages markes is solidly owned by the telephone companies, Google's entry into this market will only makes searching for a business more difficult.
As long as the integrity of the old Google is intact, I'd recommend searching for the ZIP code there. I also recommend free directories like (the now dead) http://hoppa.com/us/nw/wa/sanjua/orcas/Canoeing/index.en.pl.gz and DMOZ.
2004-09-15: Results seem more complete now, e.g. kayak Eastsound. Still US only, probably because it still doesn't use WGS84 meta data.
---
Orkut - Evaluation
Closed Architecture
According to Newsweek, the Orkut project is typical Google big-think.
I disagree. With its closedness, this kind of big-think is more typical of Microsoft or a telephone company (and maybe IBM in the old days).
Newsweek writes as if Google was the first search engine ever. I started with Lycos, quickly switced to AltaVista because of its precise search criteria, then to Google because of its larger index.
These switches were possible because search engines are open, with Google the most open of them all. Now, imagine if I want to switch to an Orkut competitor. That would leave all my Orkut friends behind at orkut.com. Even if all my friends left with me, we would leave what was written in Orkut behind.
Compare this with Upcoming.org, where you also have to register to be allowed to register an event. But anyone can see the RSS feed of events in e.g. Tórshavn, and syndication is encouraged. (Upcoming could also be more open, they can't aggregate other feeds, and they do not list time and space data for events in standarized form.)
Privacy
The idea that messages can be limited to 'friends' only, is fundamentally a good one. But I think the long term solution is news feeds with SSL client certificate authentication. Meanwhile, I think email is the way to go for friendly communication that is not intended for the public.
I don't like the idea that anyone can surf my social network at Orkut. The government intelligence agencies will know anyway, from telephone and email traffic analysis. But the amateurs will not, and the amateurs are probably more dangerous than the government.
---
Roof over Múrurin
Múrurin, the walls of the St.Magnus Cathedral at Kirkjubøur, is in bad need of a roof. It will crumble if not protected from the weather. With a roof, it will aslo become a good place for concerts and exhibitions. (There is no need to use the building as a church, the village is well served by the older St.Olav's Church.)
There is a proposal for a low roof. I don't like it at all; it makes the old cathedral look like an outpost for the Nordic House. While I admire the Nordic House, I think Múrurin deserves a taller roof, more in keeping with its sacral origins. Which is why I took the liberty of drawing one on the proposed model.
---
Når råning blir finkultur
Jazzfestivalen søker rånere som kan låne bort bilen sin en times tid hver dag under festivalen.
Har du en rånebil (senket bil med brede felger, wonderbaum og annet reglementert utstyr), med over middels bra stereoanlegg ønsker festivalen kontakt.
Kongsberg Jazzfestival ønsker å fortsette linja med overraskende stunts rundt i byen. I 2002 kunne folk høre Jaap Blonk i telefonkiosker rundt i byen og i fjor var det Eugene Chadborne på tilhenger som sto for musikalske stunts.
I år skal tyskeren Axel Dörner seriekople stereoanleggene og spontankomponere musikk fra forskjellige lydkilder. Selve forestillingen vil ta plass på Kirketorget, og festivalen ønsker også å bruke bilene til å opplyse om når en ?rånekomposisjon? er i farta.
Din rånebil kan bli performancekunst
---